On 27 April 2017, B Logistics officially presented its new, more international, brand identity and name: Lineas. The new name marks a new beginning, leaving its financially struggling past behind it. In the last eight years, B Logistics was successfully reformed by CEO Geert Pauwels and his team, but this has not been an easy task given the staggering operational loss of €115 million in 2009. At the time, the company was a virtually bankrupt department of NMBS/SNCB. Only few stakeholders believed the company still had a future.
But, the hard work and passion put in by all Lineas employees has paid off. After a thorough transformation, the company has become one of the largest and financially most healthy private rail freight operators in Europa. The new name further boosts Lineas to face the future with confidence and ambition. It aims to realize sustainable growth in Europe, whilst having a positive impact on mobility, environment and the competitiveness of the industry. To achieve this, Lineas focuses on offering a product to its clients that convinces them to shift their transport flows from road to rail.
The Green Xpress Network has been set up to be the main driver of this growth, combining competitive pricing with high quality, high frequencies, low transshipment times and ease of use. It offers direct links between economic hubs in Europe and bundles different cargoes (from steel and chemicals to palletized cargo and containers) in an innovative way to efficiently transport them over (medium-)long distances. In the past years, B Logistics set up a network servicing 10 destinations. Another 20 to 30 connections are in the pipeline for the period until 2020. Some of the connections under consideration are fully outside Belgium, in line with Lineas' ambitions to become a European player in rail freight and logistics.
Innovations play an important role in improving the company's efficiency, but also to create a product more competitive with road transport. Since 2012, all drivers have tablets to reduce paperwork and process times. In case defects are discovered on rolling stock, a picture is made and directly sent to the responsible workshop in anticipation of repairs. Sensors have been introduced for constant monitoring of rolling stock. E-learning has been incorporated in line studies, resulting in improved training and allowing drivers to study during downtime. Geert Pauwels underlined that innovations within Lineas may not be attributed to the management alone. In many cases it was operational personnel that came up with new ideas, for example an energy-efficient driving scheme and a system detecting jammed brakes by measuring track vibrations. Pauwels added that all innovations at Lineas are completely developed in-house and that personnel is actively supported in bringing up new initiatives.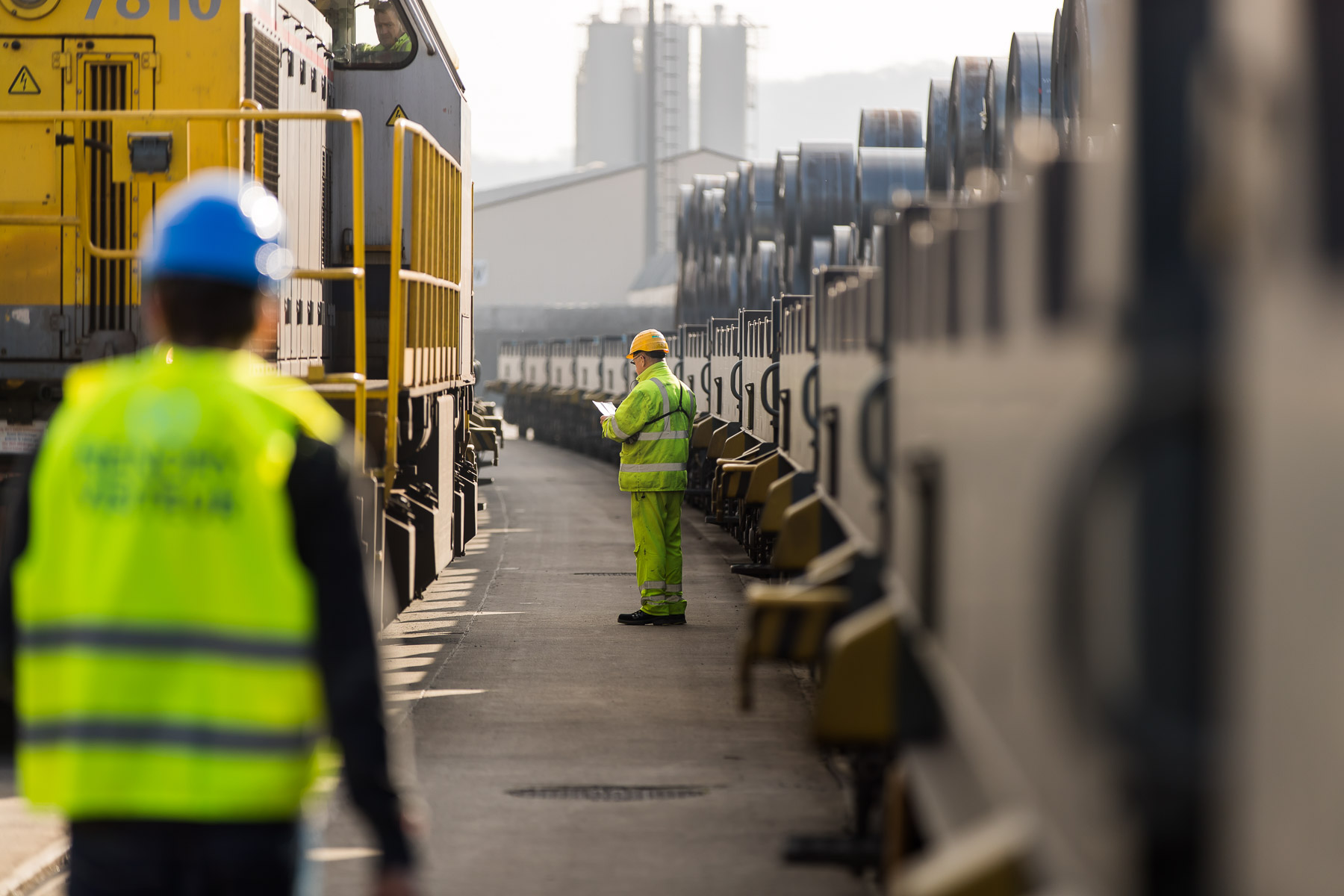 Lineas is headquartered in Brussels, but is also represented in France, Italy, the Netherlands and Germany. In France, the company is active through OSR France, which will be re-branded as Lineas France. Currently, the group operates a fleet of more than 200 locomotives, including TRAXX MS2e and HLE 13 electrics, and HLD 77 and Class 66 diesel locomotives, as well as over 7000 wagons. In the coming period, the new identity will start to appear on several vehicles. Not all locomotives will be fully re-styled, but a select number will get the full Lineas livery for now. On May 3, the first re-branded locomotive will be presented. We will keep you posted.
Related news