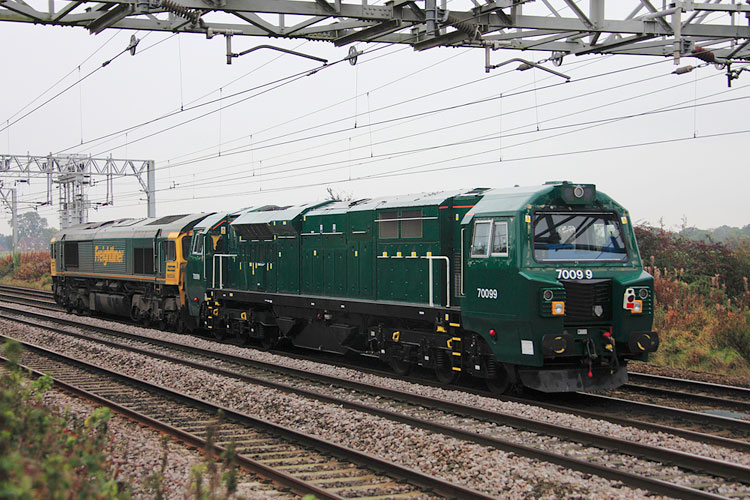 In short
The demonstrator presented here is the first PowerHaul locomotive that was assembled by Tülomsas from Turkey. On February 28 2011 the rollout of the dark green locomotive took place at Eskisehir in Turkey. It is the product of a collaboration between GE and Tülomsas to assemble PowerHaul locomotives closer to the European, Middle Eastern and North African markets. The production kits are supplied by GE's plant in Erie [USA].
In the year that followed, the demonstrator was tested by the Turkish Railways (TCDD) and demonstrated to potential customers. The loco was numbered DE 37001 according to the Turkish numbering system and decorated with small Turkish flags on the cabs. The locomotive remained in Turkey until October 2012 and was then shipped to the UK. Immediately after it arrived at Newport Docks on the 16th of that month, it lost its Turkish designation. A new number was applied: 70099. After that it was transported to Brush Traction in Loughborough, where it remained until the last day of March 2013. The loco was grounded here due to adjustments for the UK's railway system and moreover it supplied parts for Freightliner's 70014 and 70018. Both being out of service and awaiting new parts at the time.
Late 2013, the locomotive was sold to Colas Rail Ltd. as part of an order for ten PowerHaul locomotives. For this purpose, it received the number 70801. In December, the locomotive entered the paintshop in Canton. Revenue services with 70801 are to start in 2014.
DE 37001 / 70099 / 70801: