In short
On February 27th 2004 a contract was signed between SNCF and a consortium of Alstom and Siemens for the delivery of new diesel locomotives. The number of locomotives was immense: SNCF signed for 400 locomotives with an option for more. The size of the order clearly showed SNCF intentions to renew its fleet of diesel locomotives. The initial order concerned the purchase of Prima DE33 B AC locomotives with a 2000 kW MTU R41 diesel engine installed. Due to changes in European emission standards and SNCF's wish for a more powerful diesel engine, all units produced after a 75133 received 2400 kW MTU R43 engine. A new subseries was introduced for these locos: BB 75400.
The exterior of the locomotives was inherited from the Alstom Prima platform, but the technical part was mainly provided by Siemens, which used components similar to those of the EuroRunner locos. Originally, Siemens would produce 130 frames in Munich, which would then be transported to Belfort. However, after 18 frames it was decided to do all the hardware in Belfort. Construction numbers 21286 - 21415 were reserved for this purpose, but finally only 21286 - 21303 were used.
Of the 400 locomotives ordered, only 200 were delivered. An overview of the different subseries is provided on the right.
Original order
400 (+100) locomotives
Order date: 27.02.2004
Foreseen delivery period: 2006 - 2015
1st batch
99 locomotives
Delivery period: 01.2007 - 01.2009
Homologated for: France
> Designation: BB 75001 - 75099
2nd batch
33 locomotives
Delivery period: 01.2009 - 06.2010
Homologated for: France & Germany
> Designation: BB 75101 - 75133
3rd batch
68 locomotives
Delivery period: 06.2010 - 06.2012
Homologated for: France
> Designation: BB 75401 - 75468
In December 2008 a new leasing company was introduced, named Akiem. The company was founded by SNCF and took over a great part of the modern fleet. Next to Alstom Prima electrics, Alstom Astride electrics and various shunter locomotives, also 50 Prima DE33 B AC locomotives were transferred to the Akiem fleet. The locomotives involved are 75006 - 75045 & 75101 - 75110. With the transfer to Akiem also the livery of the locomotives was gradually changed from the former Fret SNCF colors to a silver grey base livery.
With the locomotives now available to other operators than SNCF, the door has opened for a more international career. This was clearly illustrated by the homologation of the Prima DE33 B AC for the Czech Republic and Slovakia back in 2011. 75006 - 75045 were originally configurated for France only, but also operations in the Czech Republic are possible now. Also the service domain for 75101 - 75110 was extended. Both the Czech Republic and Slovakia were added to France and Germany, making the locomotives available for services in four different countries. Ten locomotives (006, 009, 016, 018, 021, 027, 031-032, 034-035) were later transferred back and entered service for SNCF Infra.
Fleet Changes - SNCF Infra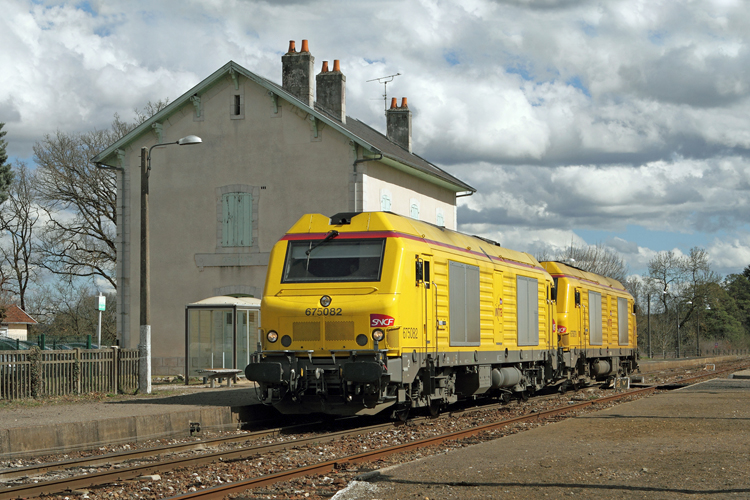 A part of SNCF's fleet of Prima DE33 B AC has been transferred to its Infra division. Just like the transfer of the Akiem locomotives, a new livery was applied to the SNCF Infra units as well. The Fret SNCF livery was replaced by an all yellow one with a purple beam and red/purple SNCF logos.
An up to date overview of all SNCF Infra locomotives can be found in the BB 75000 / BB 75100 locomotive list at the bottom of this page.
| | | |
| --- | --- | --- |
| | BB 75000 / 75100 / 75300 | BB 75400 |
| Dimensions | | |
| Total length | 20280 mm | 20280 mm |
| Total height | 4260 mm | 4260 mm |
| Total width | 2857 mm | 2857 mm |
| Clearance gauge | UIC 505-1 | UIC 505-1 |
| Axle characteristics | | |
| Wheel diameter | 1150 mm | 1150 mm |
| Wheel base | 10820 mm | 10820 mm |
| Axle arrangement | Bo'Bo' | Bo'Bo' |
| Track gauge | 1435 mm | 1435 mm |
| Weight | | |
| Total weight | 84 tonnes (86 tonnes full) | 84 tonnes (86 tonnes full) |
| Axle load | 21 tonnes (21,5 tonnes full) | 21 tonnes (21,5 tonnes full) |
| Traction performance | | |
| Top speed | 120 km/h | 120 km/h |
| Starting tractive effort | 300 kN | ? kN |
| Continuous tractive effort (at 32,5 km/h) | 177 kN | ? kN |
| Maximum braking effort | ? kN | ? kN |
| Propulsion characteristics | | |
| Fuel tank capacity | 4000 L | 4000 L |
| Number of traction motors | 4 | 4 |
| Traction motor manufacturer | ? | ? |
| Traction motor type | 6FRA4567 | 6FRA4567 |
| Diesel engine manufacturer | MTU | MTU |
| Diesel engine type | 16V 4000 R41 | 16V 4000 R43L |
| Power rating (at engine) | 2000 kW | 2400 kW |
| Power rating (at rail) | 1600 kW | ? kW |
| Number of cylinders | 16 | 16 |
| Rated speed (max.) | 1800 rpm | 1800 rpm |
| Idle speed | ? rpm | ? rpm |
| Emission standards | UIC Stage II | EU 97/68 Stage IIIA |
| Electrical transmission | AC | AC |
| Multiple working | | |
| Available? | Yes | Yes |
BB 75000 / BB 75100 - Fleet List
| Manufacturer: | Works number: | Year of construction: | Type: | Axle configuration: | Company | Locomotive number | | | | |
| --- | --- | --- | --- | --- | --- | --- | --- | --- | --- | --- |
| Alstom | ? | 2006 | Prima DE33 B AC | Bo'Bo'-de | SNCF | 475001 | | | | |
| Alstom | ? | 2006 | Prima DE33 B AC | Bo'Bo'-de | SNCF | 475002 | | | | |
| Alstom | ? | 2006 | Prima DE33 B AC | Bo'Bo'-de | SNCF | 475003 | | | | |
| Alstom | ? | 2006 | Prima DE33 B AC | Bo'Bo'-de | SNCF | 475004 | | | | |
| Alstom | ? | 2006 | Prima DE33 B AC | Bo'Bo'-de | SNCF | 475005 | | | | |
| Alstom | ? | 2006 | Prima DE33 B AC | Bo'Bo'-de | SNCF Infra | 675006 | | | | |
| Alstom | ? | 2006 | Prima DE33 B AC | Bo'Bo'-de | AKIEM | 75007 | | | | |
| Alstom | ? | 2006 | Prima DE33 B AC | Bo'Bo'-de | AKIEM | 75008 | | | | |
| Alstom | ? | 2006 | Prima DE33 B AC | Bo'Bo'-de | SNCF Infra | 675009 | | | | |
| Alstom | ? | 2006 | Prima DE33 B AC | Bo'Bo'-de | AKIEM | 75010 | | | | |
| Alstom | ? | 2006 | Prima DE33 B AC | Bo'Bo'-de | AKIEM | 75011 | | | | |
| Alstom | ? | ? | Prima DE33 B AC | Bo'Bo'-de | AKIEM | 75012 | | | | |
| Alstom | ? | ? | Prima DE33 B AC | Bo'Bo'-de | AKIEM | 75013 | | | | |
| Alstom | ? | ? | Prima DE33 B AC | Bo'Bo'-de | AKIEM | 75014 | | | | |
| Alstom | ? | 2007 | Prima DE33 B AC | Bo'Bo'-de | AKIEM | 75015 | | | | |
| Alstom | ? | 2007 | Prima DE33 B AC | Bo'Bo'-de | SNCF Infra | 675016 | | | | |
| Alstom | ? | 2007 | Prima DE33 B AC | Bo'Bo'-de | AKIEM | 75017 | | | | |
| Alstom | ? | 2007 | Prima DE33 B AC | Bo'Bo'-de | SNCF Infra | 675018 | | | | |
| Alstom | ? | 2007 | Prima DE33 B AC | Bo'Bo'-de | AKIEM | 75019 | | | | |
| Alstom | ? | 2007 | Prima DE33 B AC | Bo'Bo'-de | AKIEM | 75020 | | | | |
| Alstom | ? | 2007 | Prima DE33 B AC | Bo'Bo'-de | SNCF Infra | 675021 | | | | |
| Alstom | ? | 2007 | Prima DE33 B AC | Bo'Bo'-de | AKIEM | 75022 | | | | |
| Alstom | ? | 2007 | Prima DE33 B AC | Bo'Bo'-de | AKIEM | 75023 | | | | |
| Alstom | ? | 2007 | Prima DE33 B AC | Bo'Bo'-de | AKIEM | 75024 | | | | |
| Alstom | ? | 2007 | Prima DE33 B AC | Bo'Bo'-de | AKIEM | 75025 | | | | |
| Alstom | ? | 2007 | Prima DE33 B AC | Bo'Bo'-de | AKIEM | 75026 | | | | |
| Alstom | ? | 2007 | Prima DE33 B AC | Bo'Bo'-de | SNCF Infra | 675027 | | | | |
| Alstom | ? | 2007 | Prima DE33 B AC | Bo'Bo'-de | AKIEM | 75028 | | | | |
| Alstom | ? | 2007 | Prima DE33 B AC | Bo'Bo'-de | AKIEM | 75029 | | | | |
| Alstom | ? | 2007 | Prima DE33 B AC | Bo'Bo'-de | AKIEM | 75030 | | | | |
| Alstom | ? | 2007 | Prima DE33 B AC | Bo'Bo'-de | SNCF Infra | 675031 | | | | |
| Alstom | ? | 2007 | Prima DE33 B AC | Bo'Bo'-de | SNCF Infra | 675032 | | | | |
| Alstom | ? | 2007 | Prima DE33 B AC | Bo'Bo'-de | AKIEM | 75033 | | | | |
| Alstom | ? | 2007 | Prima DE33 B AC | Bo'Bo'-de | SNCF Infra | 675034 | | | | |
| Alstom | ? | 2007 | Prima DE33 B AC | Bo'Bo'-de | SNCF Infra | 675035 | | | | |
| Alstom | ? | 2007 | Prima DE33 B AC | Bo'Bo'-de | AKIEM | 75036 | | | | |
| Alstom | ? | 2007 | Prima DE33 B AC | Bo'Bo'-de | AKIEM | 75037 | | | | |
| Alstom | ? | 2007 | Prima DE33 B AC | Bo'Bo'-de | AKIEM | 75038 | | | | |
| Alstom | ? | 2007 | Prima DE33 B AC | Bo'Bo'-de | AKIEM | 75039 | | | | |
| Alstom | ? | 2007 | Prima DE33 B AC | Bo'Bo'-de | AKIEM | 75040 | | | | |
| Alstom | ? | 2007 | Prima DE33 B AC | Bo'Bo'-de | AKIEM | 75041 | | | | |
| Alstom | ? | 2007 | Prima DE33 B AC | Bo'Bo'-de | AKIEM | 75042 | | | | |
| Alstom | ? | 2007 | Prima DE33 B AC | Bo'Bo'-de | AKIEM | 75043 | | | | |
| Alstom | ? | 2007 | Prima DE33 B AC | Bo'Bo'-de | AKIEM | 75044 | | | | |
| Alstom | ? | 2007 | Prima DE33 B AC | Bo'Bo'-de | AKIEM | 75045 | | | | |
| Alstom | ? | 2007 | Prima DE33 B AC | Bo'Bo'-de | SNCF | 475046 | | | | |
| Alstom | ? | 2007 | Prima DE33 B AC | Bo'Bo'-de | SNCF | 475047 | | | | |
| Alstom | ? | 2007 | Prima DE33 B AC | Bo'Bo'-de | SNCF | 475048 | | | | |
| Alstom | ? | 2007 | Prima DE33 B AC | Bo'Bo'-de | SNCF | 475049 | | | | |
| Alstom | ? | 2007 | Prima DE33 B AC | Bo'Bo'-de | SNCF | 475050 | | | | |
| Alstom | ? | 2007 | Prima DE33 B AC | Bo'Bo'-de | SNCF | 475051 | | | | |
| Alstom | ? | 2007 | Prima DE33 B AC | Bo'Bo'-de | SNCF | 475052 | | | | |
| Alstom | ? | 2007 | Prima DE33 B AC | Bo'Bo'-de | SNCF | 475053 | | | | |
| Alstom | ? | 2007 | Prima DE33 B AC | Bo'Bo'-de | SNCF | 475054 | | | | |
| Alstom | ? | 2007 | Prima DE33 B AC | Bo'Bo'-de | SNCF | 475055 | | | | |
| Alstom | ? | ? | Prima DE33 B AC | Bo'Bo'-de | SNCF | 475056 | | | | |
| Alstom | ? | ? | Prima DE33 B AC | Bo'Bo'-de | SNCF | 475057 | | | | |
| Alstom | ? | ? | Prima DE33 B AC | Bo'Bo'-de | SNCF | 475058 | | | | |
| Alstom | ? | ? | Prima DE33 B AC | Bo'Bo'-de | SNCF | 475059 | | | | |
| Alstom | ? | ? | Prima DE33 B AC | Bo'Bo'-de | SNCF | 475060 | | | | |
| Alstom | ? | ? | Prima DE33 B AC | Bo'Bo'-de | SNCF | 475061 | | | | |
| Alstom | ? | ? | Prima DE33 B AC | Bo'Bo'-de | SNCF | 475062 | | | | |
| Alstom | ? | ? | Prima DE33 B AC | Bo'Bo'-de | SNCF | 475063 | | | | |
| Alstom | ? | ? | Prima DE33 B AC | Bo'Bo'-de | SNCF | 475064 | | | | |
| Alstom | ? | ? | Prima DE33 B AC | Bo'Bo'-de | SNCF | 475065 | | | | |
| Alstom | ? | ? | Prima DE33 B AC | Bo'Bo'-de | SNCF | 475066 | | | | |
| Alstom | ? | ? | Prima DE33 B AC | Bo'Bo'-de | SNCF | 475067 | | | | |
| Alstom | ? | ? | Prima DE33 B AC | Bo'Bo'-de | SNCF | 475068 | | | | |
| Alstom | ? | ? | Prima DE33 B AC | Bo'Bo'-de | SNCF | 475069 | | | | |
| Alstom | ? | ? | Prima DE33 B AC | Bo'Bo'-de | SNCF | 475070 | | | | |
| Alstom | ? | ? | Prima DE33 B AC | Bo'Bo'-de | SNCF | 475071 | | | | |
| Alstom | ? | ? | Prima DE33 B AC | Bo'Bo'-de | SNCF | 475072 | | | | |
| Alstom | ? | ? | Prima DE33 B AC | Bo'Bo'-de | SNCF | 475073 | | | | |
| Alstom | ? | ? | Prima DE33 B AC | Bo'Bo'-de | SNCF | 475074 | | | | |
| Alstom | ? | 2008 | Prima DE33 B AC | Bo'Bo'-de | SNCF | 475075 | | | | |
| Alstom | ? | 2008 | Prima DE33 B AC | Bo'Bo'-de | SNCF Infra | 675076 | | | | |
| Alstom | ? | 2008 | Prima DE33 B AC | Bo'Bo'-de | SNCF Infra | 675077 | | | | |
| Alstom | ? | 2008 | Prima DE33 B AC | Bo'Bo'-de | SNCF Infra | 675078 | | | | |
| Alstom | ? | 2008 | Prima DE33 B AC | Bo'Bo'-de | SNCF Infra | 675079 | | | | |
| Alstom | ? | 2008 | Prima DE33 B AC | Bo'Bo'-de | SNCF Infra | 675080 | | | | |
| Alstom | ? | 2008 | Prima DE33 B AC | Bo'Bo'-de | SNCF Infra | 675081 | | | | |
| Alstom | ? | 2008 | Prima DE33 B AC | Bo'Bo'-de | SNCF Infra | 675082 | | | | |
| Alstom | ? | 2008 | Prima DE33 B AC | Bo'Bo'-de | SNCF Infra | 675083 | | | | |
| Alstom | ? | 2008 | Prima DE33 B AC | Bo'Bo'-de | SNCF Infra | 675084 | | | | |
| Alstom | ? | 2008 | Prima DE33 B AC | Bo'Bo'-el | SNCF Infra | 675085 | | | | |
| Alstom | ? | 2008 | Prima DE33 B AC | Bo'Bo'-de | SNCF Infra | 675086 | | | | |
| Alstom | ? | 2008 | Prima DE33 B AC | Bo'Bo'-de | SNCF Infra | 675087 | | | | |
| Alstom | ? | 2008 | Prima DE33 B AC | Bo'Bo'-de | SNCF Infra | 675088 | | | | |
| Alstom | ? | 2008 | Prima DE33 B AC | Bo'Bo'-de | SNCF Infra | 675089 | | | | |
| Alstom | ? | 2008 | Prima DE33 B AC | Bo'Bo'-de | SNCF Infra | 675090 | | | | |
| Alstom | ? | 2008 | Prima DE33 B AC | Bo'Bo'-de | SNCF Infra | 675091 | | | | |
| Alstom | ? | 2008 | Prima DE33 B AC | Bo'Bo'-de | SNCF Infra | 675092 | | | | |
| Alstom | ? | 2008 | Prima DE33 B AC | Bo'Bo'-de | SNCF Infra | 675093 | | | | |
| Alstom | ? | 2008 | Prima DE33 B AC | Bo'Bo'-de | SNCF Infra | 675094 | | | | |
| Alstom | ? | 2008 | Prima DE33 B AC | Bo'Bo'-de | SNCF Infra | 675095 | | | | |
| Alstom | ? | 2008 | Prima DE33 B AC | Bo'Bo'-de | SNCF Infra | 675096 | | | | |
| Alstom | ? | 2008 | Prima DE33 B AC | Bo'Bo'-de | SNCF Infra | 675097 | | | | |
| Alstom | ? | 2008 | Prima DE33 B AC | Bo'Bo'-de | SNCF Infra | 675098 | | | | |
| Alstom | ? | 2008 | Prima DE33 B AC | Bo'Bo'-de | SNCF Infra | 675099 | | | | |
| Alstom | ? | 2009 | Prima DE33 B AC | Bo'Bo'-de | AKIEM | 75101 | | | | |
| Alstom | ? | 2009 | Prima DE33 B AC | Bo'Bo'-de | AKIEM | 75102 | | | | |
| Alstom | ? | 2009 | Prima DE33 B AC | Bo'Bo'-de | AKIEM | 75103 | | | | |
| Alstom | ? | 2009 | Prima DE33 B AC | Bo'Bo'-de | AKIEM | 75104 | | | | |
| Alstom | ? | 2009 | Prima DE33 B AC | Bo'Bo'-de | AKIEM | 75105 | | | | |
| Alstom | ? | 2009 | Prima DE33 B AC | Bo'Bo'-de | AKIEM | 75106 | | | | |
| Alstom | ? | 2009 | Prima DE33 B AC | Bo'Bo'-de | AKIEM | 75107 | | | | |
| Alstom | ? | 2009 | Prima DE33 B AC | Bo'Bo'-de | AKIEM | 75108 | | | | |
| Alstom | ? | 2009 | Prima DE33 B AC | Bo'Bo'-de | AKIEM | 75109 | | | | |
| Alstom | ? | 2009 | Prima DE33 B AC | Bo'Bo'-de | AKIEM | 75110 | | | | |
| Alstom | ? | 2009 | Prima DE33 B AC | Bo'Bo'-de | SNCF | 475111 | | | | |
| Alstom | ? | 2009 | Prima DE33 B AC | Bo'Bo'-de | SNCF | 475112 | | | | |
| Alstom | ? | 2009 | Prima DE33 B AC | Bo'Bo'-de | SNCF | 475113 | | | | |
| Alstom | ? | 2009 | Prima DE33 B AC | Bo'Bo'-de | SNCF | 475114 | | | | |
| Alstom | ? | 2009 | Prima DE33 B AC | Bo'Bo'-de | SNCF | 475115 | | | | |
| Alstom | ? | 2009 | Prima DE33 B AC | Bo'Bo'-de | SNCF | 475116 | | | | |
| Alstom | ? | 2009 | Prima DE33 B AC | Bo'Bo'-de | SNCF | 475117 | | | | |
| Alstom | ? | 2009 | Prima DE33 B AC | Bo'Bo'-de | SNCF | 475118 | | | | |
| Alstom | ? | 2009 | Prima DE33 B AC | Bo'Bo'-de | SNCF | 475119 | | | | |
| Alstom | ? | 2009 | Prima DE33 B AC | Bo'Bo'-de | SNCF | 475120 | | | | |
| Alstom | ? | 2009 | Prima DE33 B AC | Bo'Bo'-de | SNCF | 475121 | | | | |
| Alstom | ? | 2009 | Prima DE33 B AC | Bo'Bo'-de | SNCF | 475122 | | | | |
| Alstom | ? | 2009 | Prima DE33 B AC | Bo'Bo'-de | SNCF | 475123 | | | | |
| Alstom | ? | 2009 | Prima DE33 B AC | Bo'Bo'-de | SNCF | 475124 | | | | |
| Alstom | ? | 2009 | Prima DE33 B AC | Bo'Bo'-de | SNCF | 475125 | | | | |
| Alstom | ? | ? | Prima DE33 B AC | Bo'Bo'-de | SNCF | 475126 | | | | |
| Alstom | ? | ? | Prima DE33 B AC | Bo'Bo'-de | SNCF | 475127 | | | | |
| Alstom | ? | ? | Prima DE33 B AC | Bo'Bo'-de | SNCF | 475128 | | | | |
| Alstom | ? | ? | Prima DE33 B AC | Bo'Bo'-de | SNCF | 475129 | | | | |
| Alstom | ? | ? | Prima DE33 B AC | Bo'Bo'-de | SNCF | 475130 | | | | |
| Alstom | ? | ? | Prima DE33 B AC | Bo'Bo'-de | SNCF | 475131 | | | | |
| Alstom | ? | ? | Prima DE33 B AC | Bo'Bo'-de | SNCF | 475132 | | | | |
| Alstom | ? | 2010 | Prima DE33 B AC | Bo'Bo'-de | SNCF | 475133 | | | | |
| Manufacturer: | Works number: | Year of construction: | Type: | Axle configuration: | Company | Locomotive number | | | | |
| --- | --- | --- | --- | --- | --- | --- | --- | --- | --- | --- |
| Alstom | ? | 2007 | Prima DE33 B AC | Bo'Bo'-de | SNCF | 75320 | | | | |
| Alstom | ? | 2007 | Prima DE33 B AC | Bo'Bo'-de | VFLI | 75323 | | | | |
| Alstom | ? | 2007 | Prima DE33 B AC | Bo'Bo'-de | VFLI | 75326 | | | | |
| Alstom | ? | 2007 | Prima DE33 B AC | Bo'Bo'-de | LINEAS | 75328 | | | | |
| Alstom | ? | 2007 | Prima DE33 B AC | Bo'Bo'-de | LINEAS | 75329 | | | | |
| Alstom | ? | 2007 | Prima DE33 B AC | Bo'Bo'-de | LINEAS | 75330 | | | | |
| Alstom | ? | 2007 | Prima DE33 B AC | Bo'Bo'-de | SNCF | 75333 | | | | |
| Alstom | ? | 2007 | Prima DE33 B AC | Bo'Bo'-de | LINEAS | 75338 | | | | |
| Alstom | ? | 2007 | Prima DE33 B AC | Bo'Bo'-de | SNCF | 75340 | | | | |
| Alstom | ? | 2007 | Prima DE33 B AC | Bo'Bo'-de | SNCF | 75341 | | | | |
| Manufacturer: | Works number: | Year of construction: | Type: | Axle configuration: | Company | Locomotive number | | | | |
| --- | --- | --- | --- | --- | --- | --- | --- | --- | --- | --- |
| Alstom | ? | 200x | Prima DE33 B AC | Bo'Bo'-de | SNCF | 475401 | | | | |
| Alstom | ? | 2009 | Prima DE33 B AC | Bo'Bo'-de | SNCF | 475402 | | | | |
| Alstom | ? | ? | Prima DE33 B AC | Bo'Bo'-de | SNCF | 475403 | | | | |
| Alstom | ? | ? | Prima DE33 B AC | Bo'Bo'-de | SNCF | 475404 | | | | |
| Alstom | ? | ? | Prima DE33 B AC | Bo'Bo'-de | SNCF | 475405 | | | | |
| Alstom | ? | ? | Prima DE33 B AC | Bo'Bo'-de | SNCF | 475406 | | | | |
| Alstom | ? | ? | Prima DE33 B AC | Bo'Bo'-de | SNCF | 475407 | | | | |
| Alstom | ? | ? | Prima DE33 B AC | Bo'Bo'-de | SNCF | 475408 | | | | |
| Alstom | ? | ? | Prima DE33 B AC | Bo'Bo'-de | SNCF | 475409 | | | | |
| Alstom | ? | ? | Prima DE33 B AC | Bo'Bo'-de | SNCF | 475410 | | | | |
| Alstom | ? | ? | Prima DE33 B AC | Bo'Bo'-de | SNCF | 475411 | | | | |
| Alstom | ? | ? | Prima DE33 B AC | Bo'Bo'-de | SNCF | 475412 | | | | |
| Alstom | ? | ? | Prima DE33 B AC | Bo'Bo'-de | SNCF | 475413 | | | | |
| Alstom | ? | ? | Prima DE33 B AC | Bo'Bo'-de | SNCF | 475414 | | | | |
| Alstom | ? | ? | Prima DE33 B AC | Bo'Bo'-de | SNCF | 475415 | | | | |
| Alstom | ? | ? | Prima DE33 B AC | Bo'Bo'-de | SNCF | 475416 | | | | |
| Alstom | ? | ? | Prima DE33 B AC | Bo'Bo'-de | SNCF | 475417 | | | | |
| Alstom | ? | ? | Prima DE33 B AC | Bo'Bo'-de | SNCF | 475418 | | | | |
| Alstom | ? | ? | Prima DE33 B AC | Bo'Bo'-de | SNCF | 475419 | | | | |
| Alstom | ? | ? | Prima DE33 B AC | Bo'Bo'-de | SNCF | 475420 | | | | |
| Alstom | ? | ? | Prima DE33 B AC | Bo'Bo'-de | SNCF | 475421 | | | | |
| Alstom | ? | ? | Prima DE33 B AC | Bo'Bo'-de | SNCF | 475422 | | | | |
| Alstom | ? | ? | Prima DE33 B AC | Bo'Bo'-de | SNCF | 475423 | | | | |
| Alstom | ? | ? | Prima DE33 B AC | Bo'Bo'-de | SNCF | 475424 | | | | |
| Alstom | ? | ? | Prima DE33 B AC | Bo'Bo'-de | SNCF | 475425 | | | | |
| Alstom | ? | ? | Prima DE33 B AC | Bo'Bo'-de | SNCF | 475426 | | | | |
| Alstom | ? | ? | Prima DE33 B AC | Bo'Bo'-de | SNCF | 475427 | | | | |
| Alstom | ? | ? | Prima DE33 B AC | Bo'Bo'-de | SNCF | 475428 | | | | |
| Alstom | ? | 2011 | Prima DE33 B AC | Bo'Bo'-de | SNCF | 475429 | | | | |
| Alstom | ? | ? | Prima DE33 B AC | Bo'Bo'-de | SNCF | 475430 | | | | |
| Alstom | ? | ? | Prima DE33 B AC | Bo'Bo'-de | SNCF | 475431 | | | | |
| Alstom | ? | ? | Prima DE33 B AC | Bo'Bo'-de | SNCF | 475432 | | | | |
| Alstom | ? | ? | Prima DE33 B AC | Bo'Bo'-de | SNCF | 475433 | | | | |
| Alstom | ? | ? | Prima DE33 B AC | Bo'Bo'-de | SNCF | 475434 | | | | |
| Alstom | ? | ? | Prima DE33 B AC | Bo'Bo'-de | SNCF | 475435 | | | | |
| Alstom | ? | ? | Prima DE33 B AC | Bo'Bo'-de | SNCF | 475436 | | | | |
| Alstom | ? | ? | Prima DE33 B AC | Bo'Bo'-de | SNCF | 475437 | | | | |
| Alstom | ? | ? | Prima DE33 B AC | Bo'Bo'-de | SNCF | 475438 | | | | |
| Alstom | ? | ? | Prima DE33 B AC | Bo'Bo'-de | SNCF | 475439 | | | | |
| Alstom | ? | ? | Prima DE33 B AC | Bo'Bo'-de | SNCF | 475440 | | | | |
| Alstom | ? | ? | Prima DE33 B AC | Bo'Bo'-de | SNCF | 475441 | | | | |
| Alstom | ? | ? | Prima DE33 B AC | Bo'Bo'-de | SNCF | 475442 | | | | |
| Alstom | ? | ? | Prima DE33 B AC | Bo'Bo'-de | SNCF | 475443 | | | | |
| Alstom | ? | ? | Prima DE33 B AC | Bo'Bo'-de | SNCF | 475444 | | | | |
| Alstom | ? | ? | Prima DE33 B AC | Bo'Bo'-de | SNCF | 475445 | | | | |
| Alstom | ? | ? | Prima DE33 B AC | Bo'Bo'-de | SNCF | 475446 | | | | |
| Alstom | ? | ? | Prima DE33 B AC | Bo'Bo'-de | SNCF | 475447 | | | | |
| Alstom | ? | ? | Prima DE33 B AC | Bo'Bo'-de | SNCF | 475448 | | | | |
| Alstom | ? | ? | Prima DE33 B AC | Bo'Bo'-de | SNCF | 475449 | | | | |
| Alstom | ? | ? | Prima DE33 B AC | Bo'Bo'-de | SNCF | 475450 | | | | |
| Alstom | ? | ? | Prima DE33 B AC | Bo'Bo'-de | SNCF | 475451 | | | | |
| Alstom | ? | ? | Prima DE33 B AC | Bo'Bo'-de | SNCF | 475452 | | | | |
| Alstom | ? | ? | Prima DE33 B AC | Bo'Bo'-de | SNCF | 475453 | | | | |
| Alstom | ? | ? | Prima DE33 B AC | Bo'Bo'-de | SNCF | 475454 | | | | |
| Alstom | ? | ? | Prima DE33 B AC | Bo'Bo'-de | SNCF | 475455 | | | | |
| Alstom | ? | ? | Prima DE33 B AC | Bo'Bo'-de | SNCF | 475456 | | | | |
| Alstom | ? | ? | Prima DE33 B AC | Bo'Bo'-de | SNCF | 475457 | | | | |
| Alstom | ? | ? | Prima DE33 B AC | Bo'Bo'-de | SNCF | 475458 | | | | |
| Alstom | ? | ? | Prima DE33 B AC | Bo'Bo'-de | SNCF | 475459 | | | | |
| Alstom | ? | ? | Prima DE33 B AC | Bo'Bo'-de | SNCF | 475460 | | | | |
| Alstom | ? | ? | Prima DE33 B AC | Bo'Bo'-de | SNCF | 475461 | | | | |
| Alstom | ? | ? | Prima DE33 B AC | Bo'Bo'-de | SNCF | 475462 | | | | |
| Alstom | ? | ? | Prima DE33 B AC | Bo'Bo'-de | SNCF | 475463 | | | | |
| Alstom | ? | 2012 | Prima DE33 B AC | Bo'Bo'-de | SNCF | 475464 | | | | |
| Alstom | ? | ? | Prima DE33 B AC | Bo'Bo'-de | SNCF | 475465 | | | | |
| Alstom | ? | ? | Prima DE33 B AC | Bo'Bo'-de | SNCF | 475466 | | | | |
| Alstom | ? | ? | Prima DE33 B AC | Bo'Bo'-de | SNCF | 475467 | | | | |
| Alstom | ? | ? | Prima DE33 B AC | Bo'Bo'-de | SNCF | 475468 | | | | |