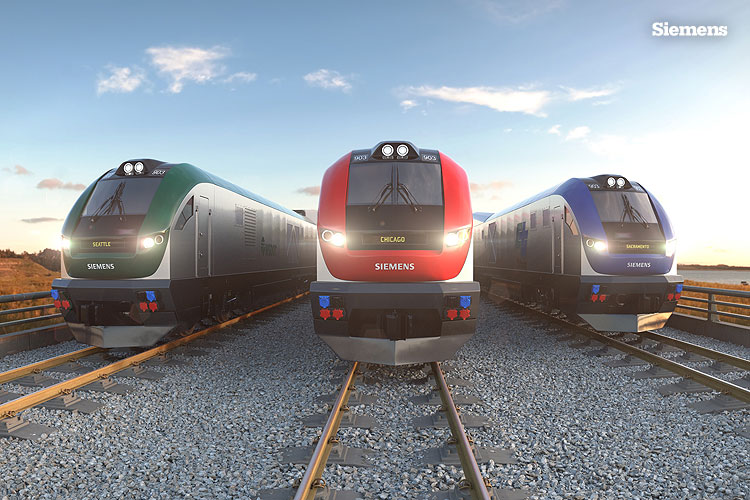 The Departments of Transportation for the U.S. states of Illinois, California, Michigan, Missouri and Washington have awarded Siemens a contract for the delivery of 32 diesel-electric passenger locomotives. The contract is valued at approximately €165 million ($225 million). It includes a purchase option for another 225 locomotives which will be used for regional and mainline trains traveling at speeds of up to 200 km/h (125 mph). The 32 locomotives ordered are scheduled to be delivered between fall of 2016 and mid-2017. "For Siemens this order marks our entry into the U.S. diesel-electric locomotive market and strongly underscores our long-term vision for the U.S. passenger rail market", Jochen Eickholt, CEO of the Siemens Rail Systems Division, emphasized. The diesel-electric locomotives will be manufactured at the Siemens plant in Sacramento, California.
On December, 2013, the Illinois Department of Transportation, which is coordinating the order on behalf of California, Michigan, Missouri and Washington, announced its intention to move forward on the order with Siemens. The official Notice to Proceed has now been formally granted.
The Charger locomotives will be used exclusively in passenger service. The primary traction drive, a 4,400 hp-rated diesel engine with 16 cylinders and a cubic capacity of 95 liters, will be manufactured in the U.S. by Cummins Inc., headquartered in Columbus, Indiana. These modern locomotives are powerful and efficient and will deliver a cleaner ride, with better air quality and reduced emission rates ensuring compliance with the Federal Railroad's EPA Tier IV regulation required to be in place in 2015.
(Siemens)