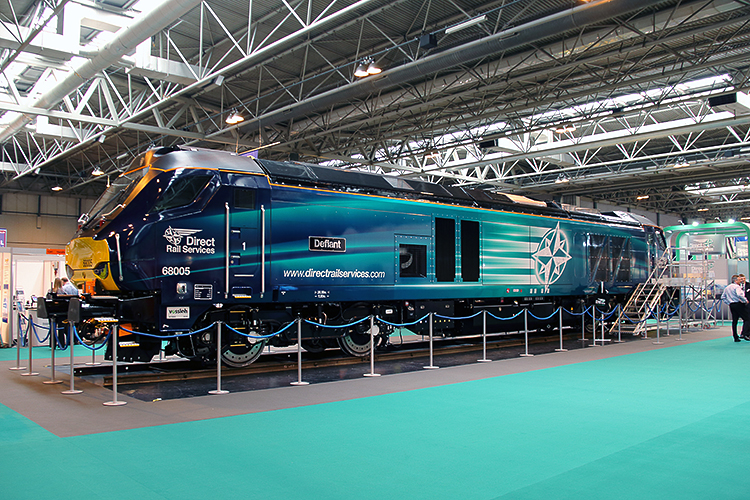 Leasing company Beacon Rail has been sold by BTMU Capital Corporation to Pamplona Capital Management. All Beacon Rail locomotives on our websites:
Beacon Rail Traxx F140 AC2 (185.2)
Beacon Rail JT42CWR(M/-T1) (Class 66)
Beacon Rail EURO 4000
Beacon Rail UKLIGHT (Class 68)
Beacon Rail UK DUAL (Class 88)
The complete press statement:
London/New York - Pamplona Capital Management LLP ("Pamplona") is pleased to announce that it has signed a definitive purchase agreement to acquire Beacon Rail Leasing ("Beacon"), a UK locomotive and rolling stock leasing company from BTMU Capital Corporation, a subsidiary of Mitsubishi UFJ Financial Group. The consideration, including commitments for firm future deliveries of locomotives is approximately $450 million.
Headquartered in London with additional offices in Boston and Rotterdam, Beacon's current portfolio includes 77 locomotives, 632 freight wagons, and 20 passenger train units on lease in the UK, France, Belgium, Norway, Sweden and Germany.
In addition, Beacon has ordered 15 diesel-electric and 10 dual mode locomotives from Vossloh España, S.A.U. for lease to Direct Rail Services in the UK. These locomotives will be delivered from 2014 through 2016 and will increase Beacon's locomotive portfolio to 102 units.
Beacon currently serves three of the top freight operators in the UK and has strong customer relationships with other leading locomotive and rolling stock lessees including Germany's RheinCargo, France's Europorte and VFLI, and Norway's CargoNet.
Ted Gaffney, President of Beacon, will continue to lead the company supported by the existing management team.
"Pamplona's support and capital commitment will provide Beacon Rail with the opportunity to grow its portfolio at a time when the market for purchasing and leasing locomotives and freight wagons is strong. With Pamplona's support, I am very confident that Beacon Rail can fulfil its strategic mission of being a leading provider of high quality rolling stock to the Pan European operator base." Gaffney said.
"We are delighted to be acquiring Beacon Rail when the prospects for rail leasing in Europe have positive trends. Operators are increasingly leasing locomotives and rolling stock as the rail transportation market grows, driven by deregulation and a growing focus on efficient alternatives to road transportation," said Robert Warden, Partner at Pamplona.
Debt financing for the transaction was provided by ING Bank NV. Pamplona's financial advisers were Evercore Partners LLC, and ING Bank NV. Berwin Leighton Paisner LLP, Clifford Chance LLP, and Kirkland & Ellis LLP provided Pamplona with legal advice.
Beacon was acquired through Pamplona's Private Equity Fund III. Last month Pamplona acquired, through the same fund, a majority stake in Alvogen, one of the fastest growing generics companies in the pharmaceutical industry.
(Beacon Rail)